Ash Regan MSP, Member of the Scottish Parliament for Edinburgh Eastern
Latest News
---
Edinburgh Eastern MSP Ash Regan joined a Mental Health Forum in Edinburgh to promote the various mental health struggles that people endure every day. Hosted by Goodtrees Neighbourhood Centre, representatives from Epilepsy Scotland gave a …
MSP for Edinburgh Eastern Ash Regan has called out inaction on bus routes in the city alongside endorsing a new petition-led campaign calling for a new bus route between The Shore in Leith and Portobello. …
Follow Ash on Social Media
---
Surgeries: Telephone & Zoom
---
Working for you during the COVID-19 Coronavirus outbreak
Ash is holding regular advice surgeries for constituents on the second Friday of each month during the coronavirus outbreak.
Ash and her constituency team are continuing to work from home with secure access to emails and casework system, but the office is regularly staffed and is open for drop-in advice for Edinburgh Eastern constituents on Monday mornings, between 11.00AM and 1.00PM.
'They Work For You': Ash in Parliament
Green Hosted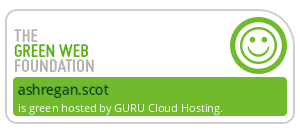 Datacentre uses 100% green-sourced power as specified by E.ON and as regulated by Ofgem.